Table of Contents
---
---
In the Shipping Rules module, you can define which shipping service provider (carrier) is used in which scenarios based on certain rules. The module is available as of version 21.1.
Rules
You can find the module by entering it in the super search or in the app store under Shipping Rules. When you call up the module, the Rules tab opens first. Here you can see all the rules you have created so far. Click on +New rule on the right to create a new rule.
The rules can help to ensure that you do not have to manually select the shipping provider in each order, but that it is pre-selected based on certain criteria.
You can now define various settings and parameters for the rule:
Name: A name of your choice for the rule
Destination shipping method: Selection of the shipping method (e.g. DPD, DHL, GLS). If the rule applies, it is automatically set once for the order during store import. In the case of manual order entry, a note is displayed after approval
Active: By setting the checkmark the rule is active
Priority: The prioritization helps to determine which rule should apply if two different rules would apply to the same order. In this case, Prio 1 > Prio 2 > Prio 3 etc. applies
Product: Restriction to certain articles
Fastlane: Selection whether the order should be a Fastlane order (higher priority)
Order amount: Limitations regarding the order amount, e.g. < 20 € or > 50 €
Payment method: Only orders with this payment method
Shipping method: The rule applies to orders with this pre-selected shipping method
Project: The rule applies only to orders of this project
Delivery country: Allows the rule to be restricted to deliveries for specific countries
Store: The name of a store can be entered here
Volume: Refers to the dimensions of the package (length x width x height)
Weight: Restrictions regarding the weight, e.g. <=5kg or >1kg
The parameters can be used as you like or left empty. Not every available operator makes sense for every parameter, for example for article or project only "=" makes sense, while for weight you can also use other operators like "<=" or ">".
For example, a rule could look like this to send orders of a certain project with a selected shipping method.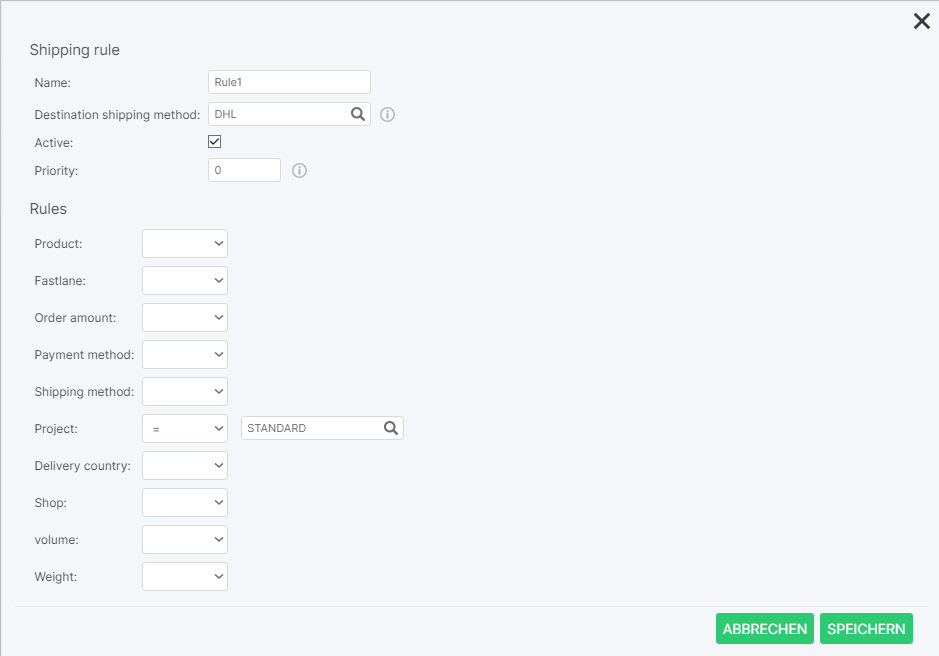 If a rule applies to an order, it will be suggested in the order (Sales > Order > *Select order*) after you have released the order. Click on Change shipping method to apply the change to the shipping rule.

You can also combine rules, by using multiple parameters in the same shipping rule. Here is an example: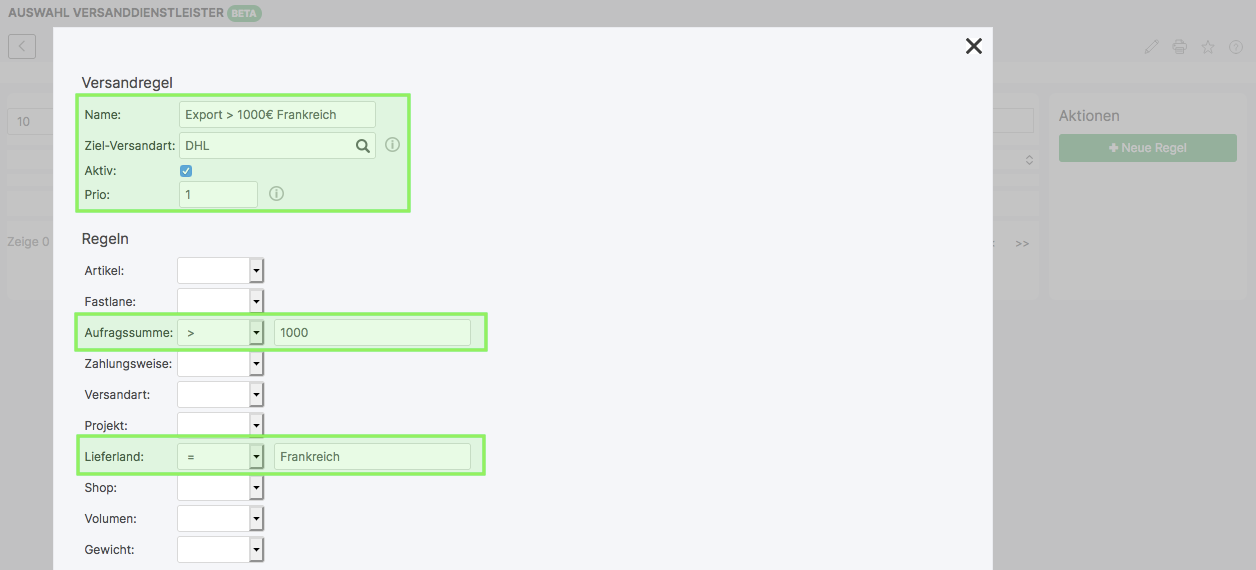 This rule means that orders with an order amount greater than 1000€ and the delivery country France will be shipped using the DHL shipping method.
History
The History tab displays the orders for which you clicked Change shipping method in the order at the above message "A shipping rule was found. Change shipping method?".