In xentral there is the possibility to create different picklists and batches in different interfaces. The Batch picking app follows the idea that not all goods are picked into the respective order boxes as usual, but are consolidated in a kind of shopping cart in the warehouse. This cart additionally contains a PDF file for the picklist.
With the trolley you stand in front of a rack system with boxes, each of which can be identified by numbers and barcode. The items are taken from the cart and picked into a crate. Finished boxes are displayed and pushed out so that they can be shipped to the other side of the shipping center.
An order can also be picked into several boxes if it is too large. The shipping center displays which crates are related.
In the shipping transfer (Sales > Order > Shipping transfer) you can combine orders, that you want to pick together into a batch.
To do this, select the desired orders, choose the option Auto-shipment (with picking reference) and click on execute. This run is the basis for the Batch Picking app.

A small window will appear where you enter the picking name.
Next, navigate to the Batch Picking app. Here you select the desired run by entering the number into the field Batch-Scan (corresponds to the scan of the PDF) or by clicking on Next run.

In the next step you scan an item from the shopping cart of the run. If the item has an expiration date, you must also scan it.
Now you can put the item into any box. Each box has a barcode with a crate number, which you scan. Xentral automatically separates the orders into single crates and makes sure that no order ends up in the same crate twice.
It continues with the next article. The system automatically recognizes if the article belongs to an existing order and suggests the same crate. If this crate would be full, you can also select another crate.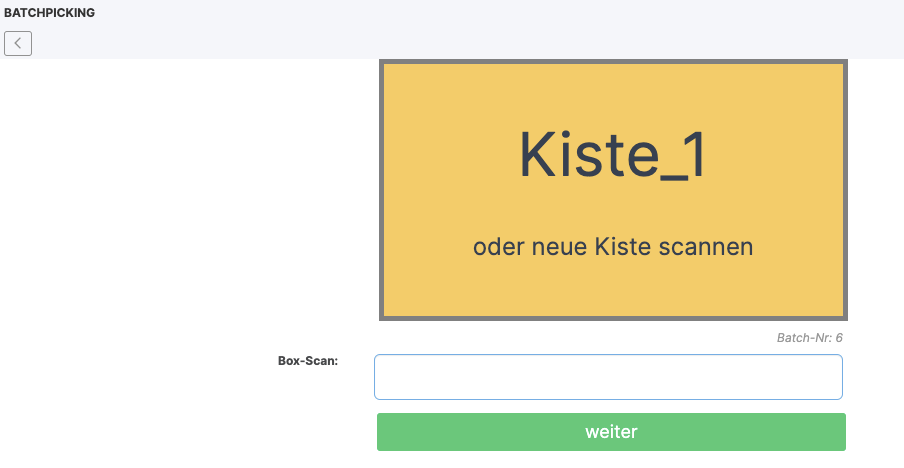 When all the items have been scanned, the message is displayed that the respective boxes have been completed. The boxes are released for use again when everything in the dispatch center has been processed.