Table of Contents
---
---
With the Properties templates module, it is possible to create groups of properties, which you can select in a product. This will load the saved templates for properties and can be filled step by step per product.
Create template
To create a property template, first open the Properties templates app in the App Center. Enter the description of the template, check the active box and click the save button.
Add properties to template
Click on the arrow of the template in the overview that is to be edited


Enter property name, property value and optionally a unit

Click Save button

Select properties template in a product
Select a product under Master data > Products and open the Properties tab:
Search for a template in the Actions section
Click load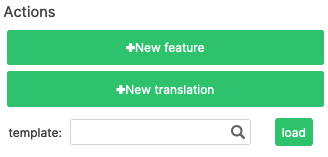 Properties template with dropdown
It is possible to create a property template with options as a select field (dropdown menu). To do this, open the item properties app and click +New. It is important that you select "Select field" as type when creating the template.

After that, you can add the appropriate options for this property in Properties templates. To do this, click on the arrow icon of the corresponding template and select the property you just created.
In the product, after you load the template, a dropdown selection is displayed for the options