Table of contents
---
---
If modules are to be written for xentral, some rules regarding the layout must be observed in order to create a uniform interface.
Error messages
Error messages must always be specified above the live table, but - if present - be specified below the fieldset:

Live tables
The "Menu" column must be kept as small as possible, however the size depends on the number of icons it contains. The last value in the Array is the column width of the menu. Example:
$width = array('10%', '10%', '24%','20%','15%','10%', '10%', '1%');

If an overview is displayed with a live table, the tab "Overview" must be used. Example:
$this->app->erp->MenuEntry("index.php?module=modulename&action=list", "Overview");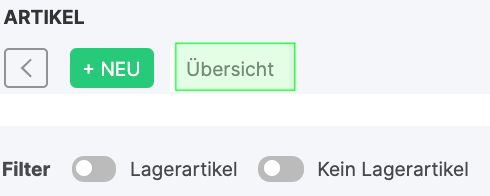 Fieldsets
If fieldsets are to be placed next to each other, set the bootstrap class around the fieldsets so that the fieldsets automatically adjust when the window is shrunk.
Text fields
The labels in front of text fields should always end with a colon:

Widgets
An example syntax for creating these widgets can be found at the item YUI: For jQuery and Javascript Widgets. To simplify the selection of a date, a DatePicker should be used: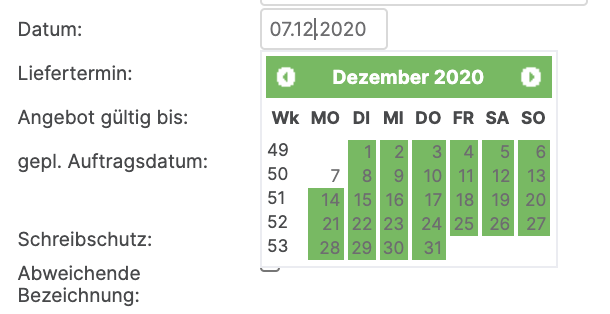 A TimePicker should be used to simplify the selection of a time: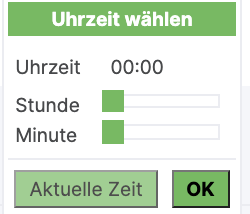 Textareas can be expanded with formatting possibilities with the help of the CkEditor function.
Standard dialogs
The standard dialogs are opened in a separate window when editing entries.

Saving settings
To be able to save settings later, the following specifications must be observed:
A "Save" button must always be available for saving
If the settings area is not saved despite changes made, a message should appear
Simple filter functions with direct, visual feedback without a button are to be created, if this is possible
Actions should always be executable via buttons
Custom CSS files
If the file ./themes/new/css/custom.css or for PopUp ./themes/new/css/custom_popup.css exists xentral includes this file at the end. Thereby an independent access to the layout is possible.