Table of contents
---
---
The license and the key can be entered directly in xentral under the following menu item: Administration > Settings > System > Basic Settings > License. The open source or free version can later be upgraded to a commercial professional or enterprise version at any time without having to reinstall the system.
Note: For an upgrade to a higher version to be activated, another update must be made (see next point). It must be ensured that the key is entered without line breaks or spaces. (Otherwise, an error message will appear during the update, indicating invalid characters in the license or the key).
Check rights
The access rights of the files must be set so that the web server is allowed to access and change the files. Often, for example, the web server runs under the user "www-data". In this case, the files must be allowed to be changed by the "www-data" user.
Perform update
Perform update within a version
An update can be started via the user interface. On the start page is a link to the update view at the bottom right: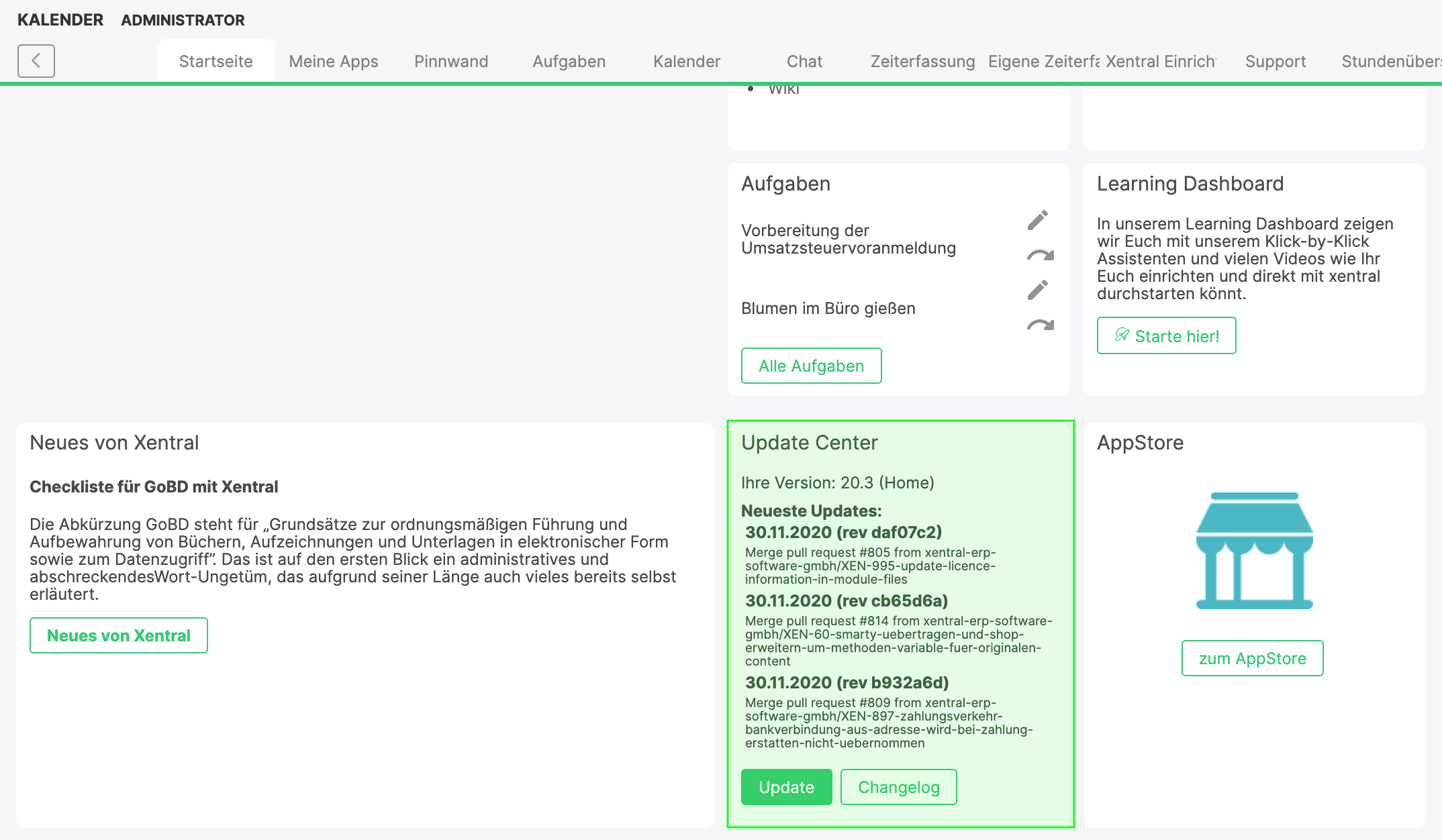 In order to perform an update, proceed as follows:
1. The update is started via the green button.
2. Wait until all three bars have run through completely. Note that the individual steps may take several minutes.
3. It is possible to return via the Back to xentral button.
Error messages after an update
Info: if an update does not work or an error message is received, the following can always be tried first:
Pull update again via the following URL call: https://MEINXENTRAL.xentral.biz/update.php (MEINXENTRAL → your xentral URL)
Update to a higher version
As soon as a higher version has been unlocked, a drop-down appears next to the "Update" button.
The higher version can be selected in the drop-down and the update started.
Important: A version upgrade (update to a higher version) should not be made during operation, but at a suitable time, e.g. in the evening or at the weekend.
A higher version may be released before the official release. Information about this can be found in the Beta Program section.
Update via command line - Only up to version 17.4
In the file folder of xentral are the files "upgradesystemclient2.php" and "upgradedbonly.php". These are to be executed on the command line as follows.
Important: These commands should only be executed as user of the web server or, if there is no other way, as root user. Then the rights of the web server must be specified for the files (it is very important that the files belong to the web server, otherwise massive problems can occur). The user names of the web server must be found out accordingly. E.g. under a Linux system you can use "ps axu" to list all processes that are running. In the list is also the web server as entry (e.g. apache or nginx).
Open command line - connect to the server - target the xentral folder cd /var/www/html/wawision Note: Possibly adjust the command according to your folder structure on the server. Target is the main xentral folder.

Start system update php upgradesystemclient2.php or php5 upgradesystemclient2.php
Note: php or php5 depends on the server distribution and PHP version.

Datenbankupdate starten php upgradedbonly.php oder php5 upgradedbonly.php