Table of Contents
---
---
The Rapid production enables the rapid processing of individualized customer orders. In this process, the items (mostly bills of materials) are booked in their individual parts from the warehouse and, after assembly, are placed in a new storage location as a single product.
Typical use cases are as follows:
Quick packing of order items/stock items
Confectioning of individual products (customer-specific)
Rapid production
The following instructions describe how rapid production works.
Calculate material inventory
Before quick production, the material stock must be calculated. With this button, the status lights are also calculated and as a result, the individual productions are displayed.
Overview BOM items
The BOM items are directly visible in the mini detail. For example, item 10000007 is the item to be produced. This is currently 0 times in stock. 1000005 and 1000006 are the items needed for production. These articles are in stock 4 times each. For this single production each of the two articles is needed only once. As there is enough material in stock, the status light is green here.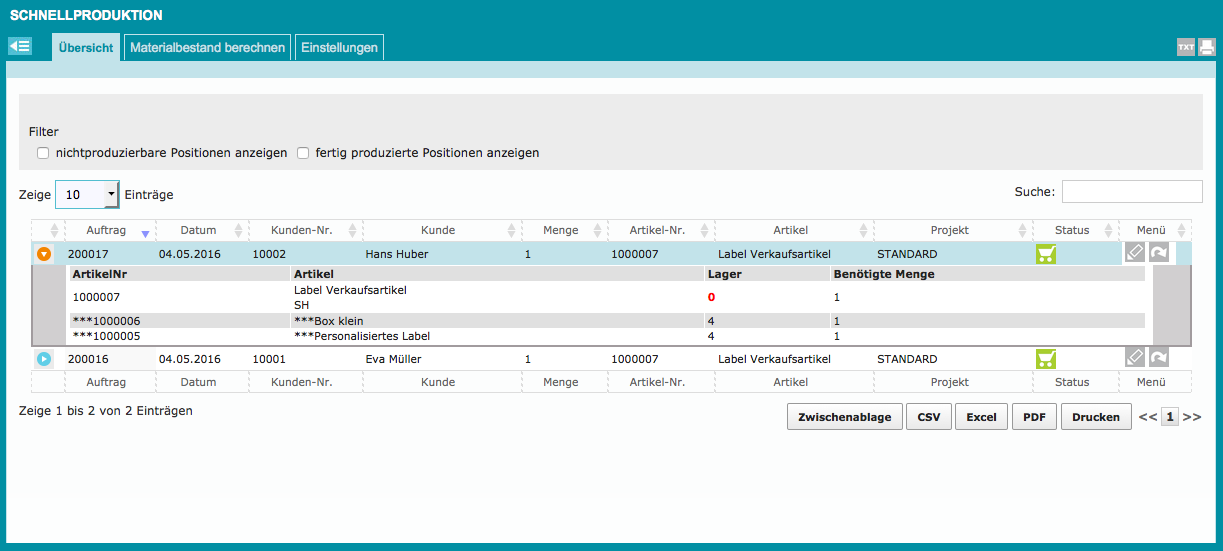 Step 1: Start rapid production
The single production for a customer can be started directly by clicking the Produce Automatically icon

. In the overview of the respective rapid production are the required products and the suggested warehouse from which these articles should come.

Step 2: Putting the ready-made items into storage.
Select the desired warehouse.
Automatic rapid production
The steps from above from the quick production can also be automated:

Automatic material retrieval
Automatic storage of the finished product in a standard warehouse
Shortcut steps:
Remove article from storage at the push of a button
Put items into a warehouse (here the default warehouse is automatically drawn)