Table of contents
---
---
The Dangerous goods module can be used to define items based on UN numbers that are shipped as hazardous materials. When one of these items is included in a delivery note, an additional PDF file is created for this delivery note, which can then be included in the shipment. In this PDF file, the hazardous materials are listed with their necessary information.
Important: The respective applicable legal requirements for hazardous materials, for which the user is responsible, apply.
Overview
The overview lists all created hazardous materials.
Add new article for hazardous materials
Using the +NEW button, existing articles in xentral can be marked as hazardous materials. In the new window that appears, the following fields must be completed:
Product: This is where an article is selected that should be considered a hazardous material. The weight should have been defined for this in the article itself
Description: The description is transferred to the cover letter. Additional information can be included, if required
Transport category: Is generally defined for each hazardous materials article and determines the factor for the calculation of the hazardous material points
Class of dangerous goods: The hazardous materials class is the classification of hazardous materials depending on the hazardousness characteristic for transport. This is issued on the accompanying letter for the respective article
UN number: The UN number is 4-digits and identifies the composition for all hazardous substances. This number is printed on the accompanying letter for the respective article
Packing group: The packing group determines which packaging is used for transporting the hazardous materials (which tank on a truck). This is also issued on the accompanying letter for the respective article
Notify by phone: Indicator that the carrier must be contacted before transportation
Telephone notification type: Type of phone notification (only private or private and company)
Hazardous materials in the delivery note
As soon as an article that has been marked as hazardous in the Dangerous goods app is included in the delivery note, a new PDF file is automatically created in the delivery note.
Sample PDF file content: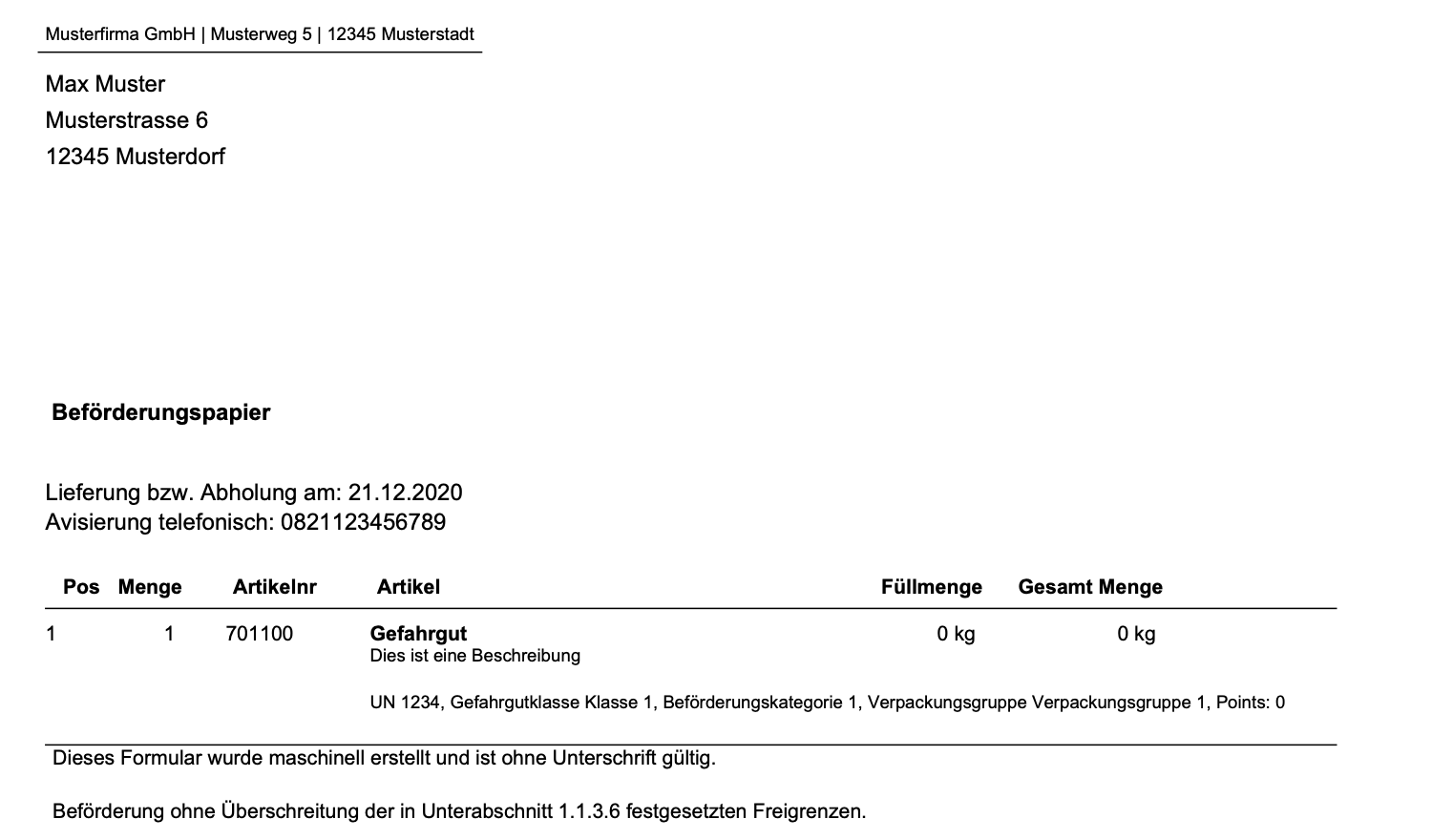 Print hazardous materials certificate in shipping center
In order to automatically print the transport ticket in the shipping center, the PDF attachment option can be activated in the respective project under Project > Settings > Logistics / shipping:

Evaluations
In the module, next to the Overview tab, you will find another tab called Evaluation.
As soon as an article marked as dangerou goods in the overview has been inserted as an article in an order and this order is completed by the auto dispatch, a new entry appears in the evaluation for this article. If an entry for a dangerous good article already exists, only the value of the Total quantity column increases for this entry.
If the transactions involving dangerous goods are to be viewed within a specific time frame, the date filter is also available for this purpose.