To ensure the right communication with clients, suppliers, etc., Xentral needs your complete, up-to-date company address. You can find the settings for the company address in the basic settings for the Xentral system setup.
Note
Please make sure to enter the essential data so that you won't miss any required information in other features. For example, the ISO country code of your company's location is required for various purposes, such as warehouse location, shipping, and country configurations. Additionally, your company name will be displayed within Xentral for your team to see.
In Xentral NextGen: Settings > Set Up Your System > Company Data.
In Classic Design: Administration > System > Basic Settings.
Alternatively, use the system search: Basic Settings
Note
You can find an overview of the settings in Xentral NextGen here.
You can enter the address of your company headquarters and the company's tax number or VAT ID in the Settings tab, under the Company Address sub-tab:
Name* → Name of your company (headquarters, legal name)

Street* → Street and house number of your company headquarters

ZIP-code* → ZIP code of your company headquarters

Place* → City of your company headquarters

Country* → ISO country code, required for country-specific settings (e.g., DE for Germany, AT for Austria)

VAT ID* → VAT number of your company

SEPA creditor ID → SEPA Creditor ID (if you wish to use direct debits in the Payment Transactions module, the SEPA Creditor ID is a legal requirement for your direct debit)

EORI Nummer (EORI number) → This registration and identification number is necessary for all businesses that import or export goods into or out of the EU. You can obtain a EORI number from your national customs authority.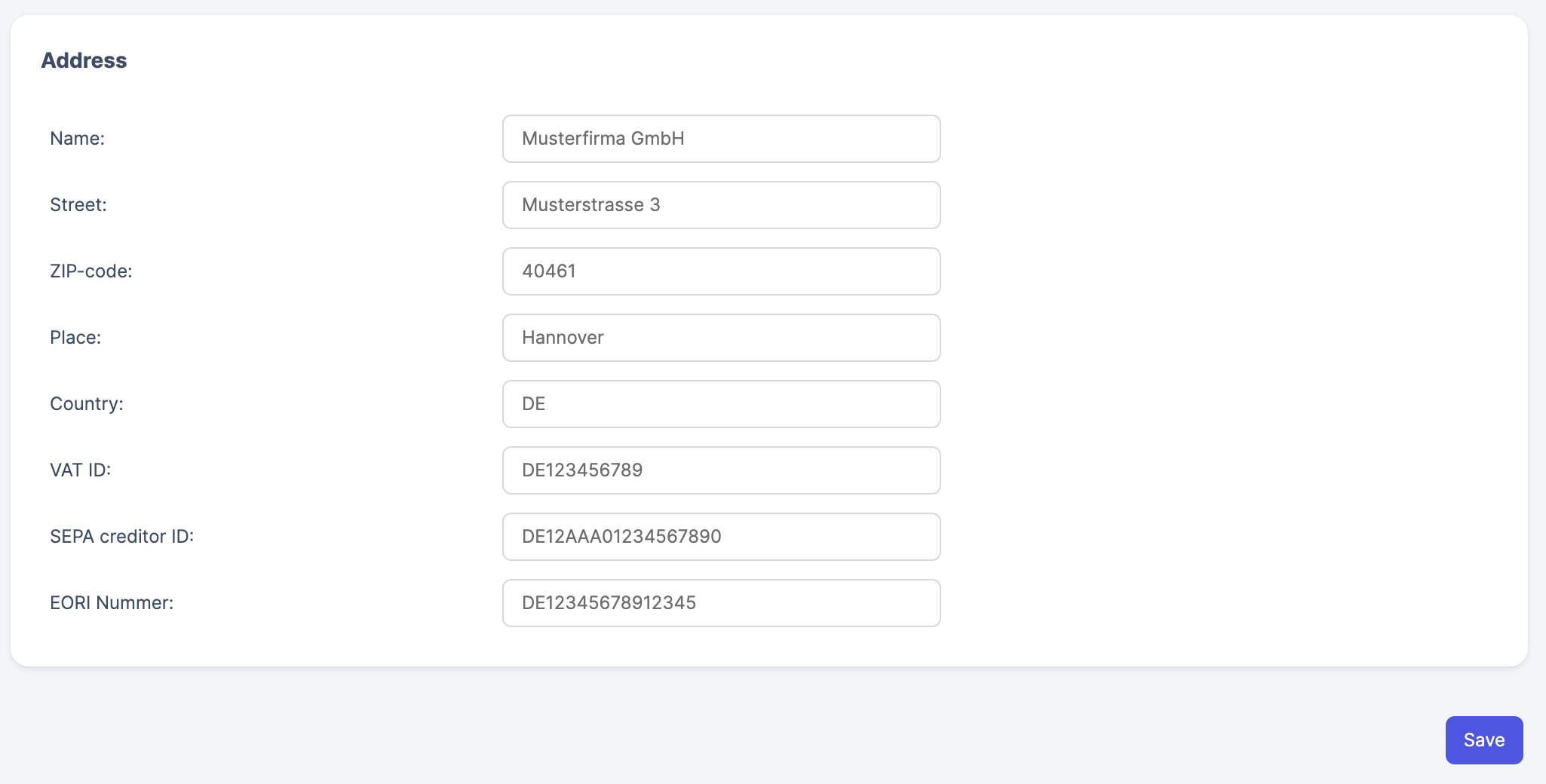 Note
The basic settings apply throughout the system. More refined settings, for instance at the project level, can take precedence over the basic settings depending on your workflow/project settings. Please keep this in mind with regard to the respective settings, such as email templates or email addresses, which are set up based on projects or sales channels.