The mobile warehouse management interface enables you to store, retrieve and transfer items using a tablet or mobile device. The surface of the app with its large buttons is optimized for mobile devices with touch displays.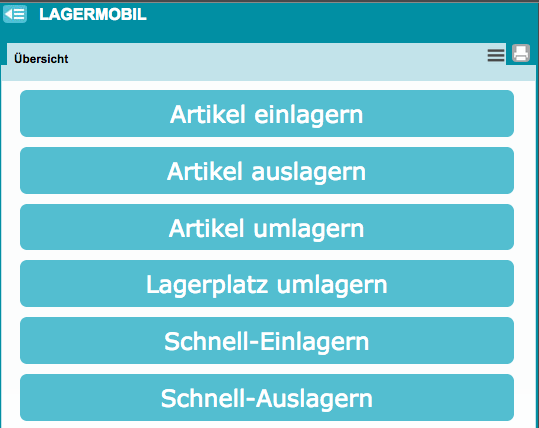 Quick storage and fast outsourcing
Use this option only for standard stock items. Serial numbers, batches and MHDs are not supported. Items and storage location can be entered manually or via scanner.
If no storage location is selected, the item will always be removed from the storage location with the lowest stock level during Fast outsourcing. In the case of Quick storage, the item is stored on the shelf location with the most stock. You can also select the storage characteristics yourself in the settings tab. The available options are:
Stock with most of this item
Default warehouse
After pushing the Put away or Take away button, you will be returned to the following view and the last posted quantity will remain entered.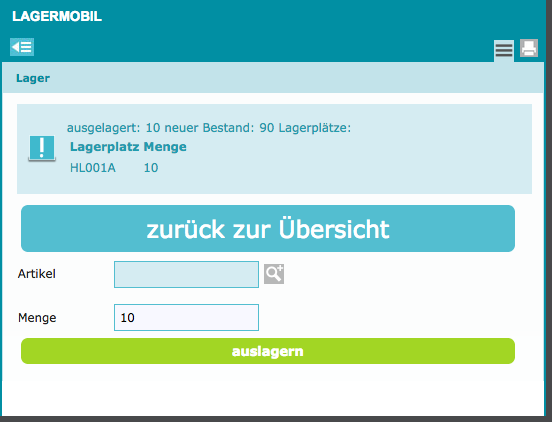 Information about which warehouse is used in special constellations (standard setting):
Item not in stock, no standard warehouse stored in the item: The storage location that is unchecked in the storage type is used
Item not in stock, standard warehouse stored in the item: Standard warehouse is pulled
Item in stock in warehouse A, standard warehouse stored in the item: Standard warehouse is pulled
Item in stock in warehouse A, standard warehouse not available in the item: Warehouse A is pulled
Stocking and removal from stock
When stocking via the button Stock contents, in contrast to quick stocking, it is not the quantity but the controlled stock that is temporarily stored.
When removing stock via the mobile warehouse interface, the last movements of the entire warehouse are displayed in the next step after the first removal process.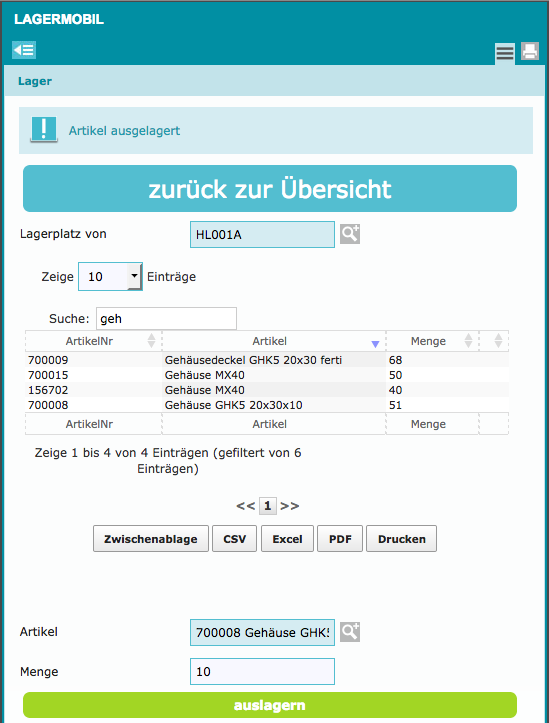 Using the search function, you can selectively view the item you have just removed and the updated stock.
Note: The information given here about the displayed stock refers to the information under Product > Best before/Batch and Product > Warehouse. Therefore, in case of discrepancies, check whether this data is not completely maintained.
Mobile Stock replenishment posting
Mobile stock replenishment posting is described in this article.